A simple pendant is sometimes the way to go.  Here a single Coral Branch Pendant is accented with an African brass bead and finished with a lobster clasp. Wear on your own chain or as showcased below on our Hammered Collar, the Bordeaux Bold Link, the finer Essential Oblong Chain , our new Selene Chain and on the Pavé Lock Enhancer stacked with other charms... The possibilities are endless.

 - Coral is the stone of peace and transformation. It brings energies of honestly and peace

- Each piece  is hand chosen by Zoé and unique to each enhancer
- Length approximately 2.5"

- Imported materials of coral, African brass, 14k gold fill findings
- Handcrafted with care and love in California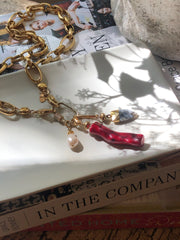 Coral Branch Pendant